The ultimate way to detect water leaks (without a plumber)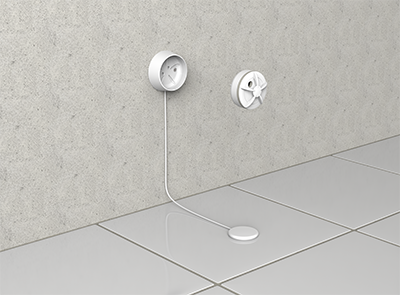 Imagine you coming home from a long day at work or a nice vacation with your family to find a flooded basement or a water damaged kitchen due to a leak from your dishwasher. Your customers experience the exact same annoyance and powerlessness as you would. With the Flood Alarm Probe, a new accessory option for the Flood Alarm, you can provide your customers with the ultimate leak detection.
Extended water leak detector
The probe is designed to detect water in areas with difficult accessibility, e.g. underneath white goods, or in basements. When a leak is detected, the probe provides an instant warning, using a loud sound and a notification on your customer's smartphone via a connected hub. In this way, the probe helps prevent damage to properties and personal belongings both when your customer is in the house and away from home.
Easy installation and integration
The Flood Alarm Probe comes with a mounting base, which your customer can install on the wall without difficulty. The Flood Alarm is placed in the mounting base, and the probe is placed on the floor. The ZigBee-based Flood Alarm with the probe can easily be integrated with other ZigBee products, allowing you to include the leak detection functionality in your existing smart home system.
Order samples of the Flood Alarm and the Flood Alarm Probe before your competitor (the Flood Alarm Probe is purchased separately)
Expand your IoT knowledge
Subscribe to Develco Products' newsletter and increase your share of the IoT market