Connected World 2019: Take a look into the future of smart technologies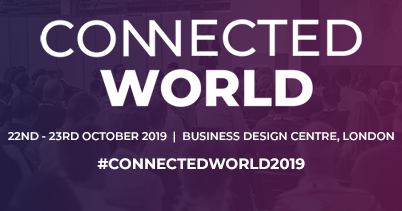 Do you want to dive into the future of key technologies such as IoT, cellular networks and connectivity, cyber security and data management? Join Develco Products at Connected World 2019 on the 22ndand 23rdof October in London and get insights into the newest trends in smart technologies.
At the event, you can learn how a white label IoT platform shortens the time to market of your company's IoT solution. To ensure that your solution is future-proof and protected against cyber threats discuss the current standards of IoT security with us.
Learn about a market-ready white label IoT platform at Develco Products' live demo presentation
On 22ndat 11:05 a.m., you are welcome to join a live demo presentation by Develco Products at our booth F08. In the presentation, you can gain insights into the current state and the future of the IoT from industry experts. With more than 12 years of experience in the IoT industry, we provide you with an overview of the opportunities offered by the IoT and where the industry is moving towards. Get insights into how a white label IoT platform can provide you with a short time to market of your IoT solution. You can also learn how to build an integrated and multiprotocol IoT solution and how to add new revenue streams to your business in a cost-effective way with IoT.
Shaping the future of IoT with white label products
As the IoT market and its capabilities are developing rapidly, more and more companies are wanting to set foot in the industry. Developing your own solution from scratch, however, takes up time and money. With a market-ready white label IoT platform, you can skip a possibly long development process of new hardware and immediately start working on your software. Develco Products' white label products can be customized according to your needs to ensure that they will fit your brand's visual identity perfectly.
If you already have an IoT solution but want to build on that to create a full solution, you can also integrate the market-ready products into your own solution. Develco Products aims for a high interoperability to enable you to assemble your IoT solution as flexibly as possible.
Developing a secure IoT network
IoT security rightly is one of the current buzzwords in the IoT industry. Developing secure and cohesive IoT solutions is essential for a continuous growth and widespread adoption of smart technologies. At Connected World, you will be able to learn how to secure your IoT solution and be ready for the future of smart technologies.
Get a free guest pass to join Develco Products at Connected World 2019
Expand your IoT knowledge
Subscribe to Develco Products' newsletter and increase your share of the IoT market