The shortcut to a turn-key home care solution
With the continuing challenge of a growing elderly population and a rising desire of seniors to live at home independently come high demands towards the healthcare sector. IoT solutions can address these challenges and reduce care costs, enable seniors to live independently as long as possible and make their care easier for relatives and care professionals.
To realize the possibilities that technology offers in the home care sector, Develco Products has joined forces with People Power Company who are specialized in Artificial Intelligence (AI) software. Together, we provide a joined white label demo kit with wireless devices and AI software, the Family Care Pack. With data from the Zigbee-sensors, the AI software is able to alert in cases of falls or inactivity and monitor a senior's sleep and home activity to detect potential illnesses.
With the Family Care Pack, solution providers are able to quickly launch their own home care solution incorporating both IoT devices and AI software and enable seniors to live at home safely and independently for a longer time.
Monitor senior's activity with state-of-art IoT devices
The Family Care Pack includes a Squid.link gateway, the heart of the solution, three Motion Sensor Minis to monitor activity within the house, two Window Sensors that detect the opening and closing of doors and windows, and optionally a Panic button to call for help in emergencies.
All devices are market-ready, thoroughly tested, and secure, making them ideal for home care solutions. Thanks to the long battery life of the devices, the sensors require very little maintenance and are easy to use for the end-user.
All data from the sensors are gathered by the Squid.link gateway, a highly secure and flexible white label gateway. The gateway supports multiple communication protocols enabling you to include different devices and tailor your home care solution towards your and your customers' needs.
Get started with your home care solution and order your pilot today.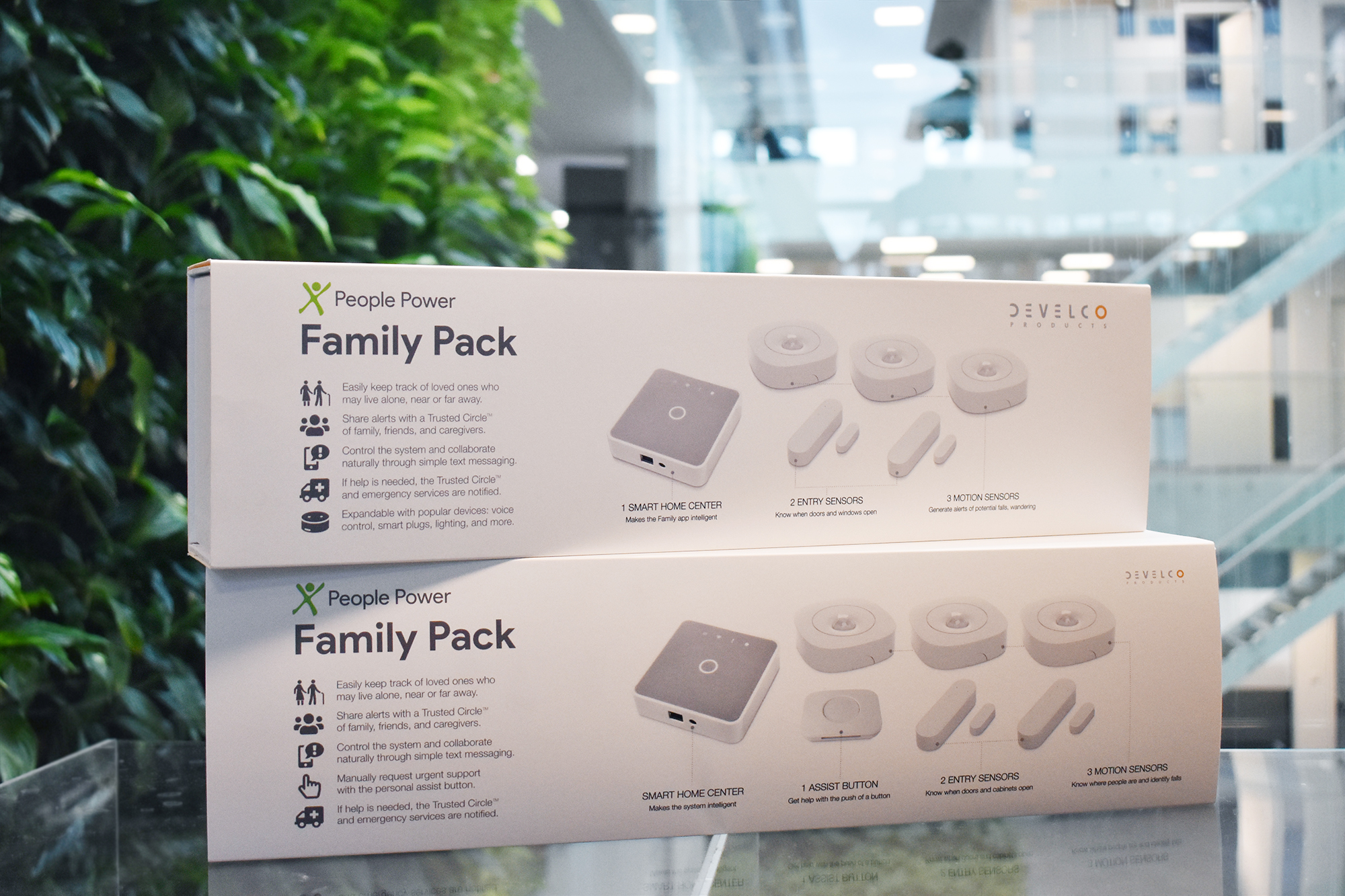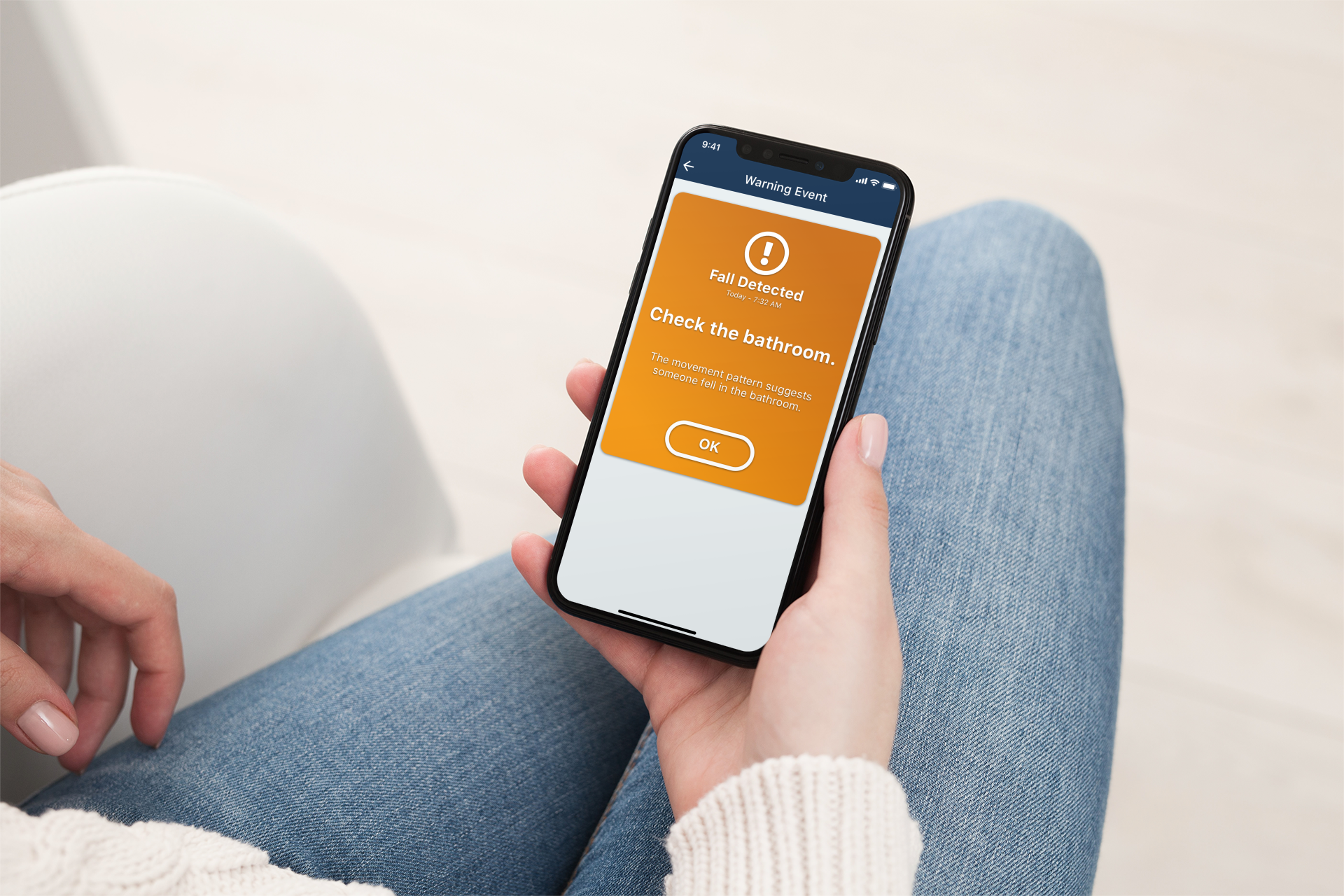 Recognize behavior patterns and accidents with AI software
Based on the data gathered by the gateway, AI software can offer insights into the senior's behavior and health and detect possible accidents. The insights are provided to relatives through an application. Through the AI software, relatives can monitor the sleep and medication adherence of their loved ones, receive alerts in cases of wandering or possible accidents, and discover common diseases among elderly people, such as Alzheimer's disease, diabetes, or depression. The software can also help filling possible blind spots in seniors' behavior and give information when additional services may be needed.
With the help of the Family Care Pack, seniors are enabled to live independently as long as possible while both them and their relatives can be sure that they will get help in emergencies and are well cared for.
Mature hardware and software
Separately, both Develco Products and People Power have spend a decade developing and optimizing their hardware and software.
Highly intelligent AI software
Provide new, highly differentiated services with People Power's advanced AI technology.
Rapid time to market
Launch your pilot and full solution quickly and get a head start in the home care market.
Scalable and expandable
Customize the solution to fit your needs and expand it with additional Zigbee-based devices or 3rd-party wearables.
Increase customer engagement
Gather valuable customer insights and increase customer loyalty with the user-engagement system Maestro.
Recurring revenue
Grow your business steadily and sustainably by gaining recurring revenue.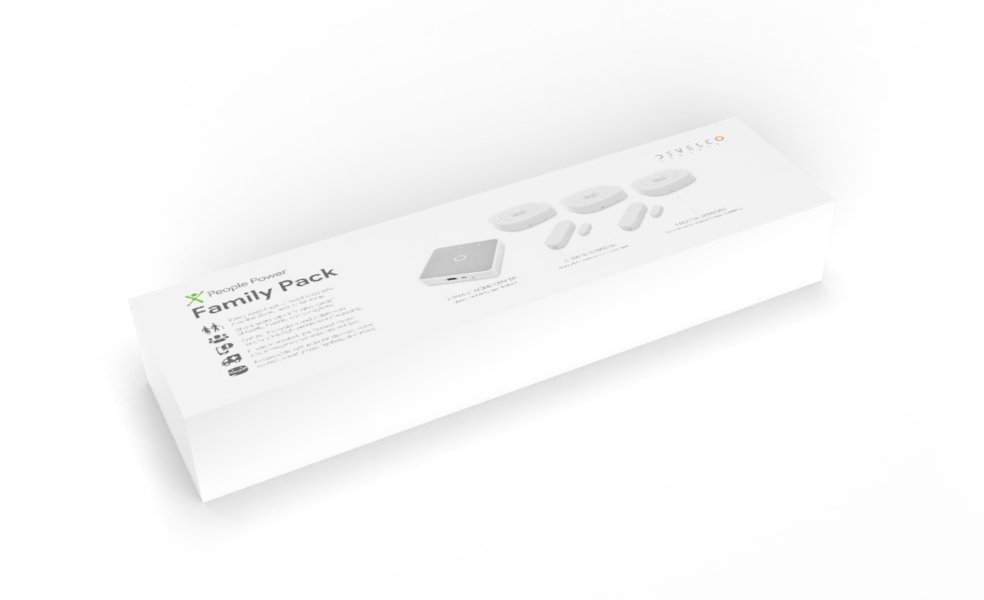 Get started with your own home care solution incorporating AI software and mature devices today.
Reduce stress of caregivers and warn in emergencies
With the Family Care Pack, relatives of seniors will have peace of mind knowing that someone is watching over their loved one 24/7, without a human being present. The application included in the demo kit allows family members to create a "Trusted Circle" with family and friends through which different they can keep track of their loved one, and they can share tasks and responsibilities with each other and stay connected.