4 essential IoT security recommendations
IoT solutions present opportunities for significant innovation, from smart homes to smart cities, and make our lives more comfortable through autonomous functionality. However, in an ever-growing connected world, the risk of cyber threats can only grow; these threats, along with improper cybersecurity measures against them, may negatively affect consumers and hinder the growth of the IoT and the promise it holds. Because of this, at Develco Products we are committed to help bring notice to the field of IoT security.
As part of this commitment, last week, Develco Products' IoT Security Engineer Mohammed Kemal did a presentation on IoT security at a Digital Katalysator workshop for Danish SMEs held by DTU and Aarhus University. During his lecture, Mohammed gave a series of security recommendations, which developers should consider when building secure end-to-end IoT solutions, as well as providing a series of important IoT security resources and guidelines.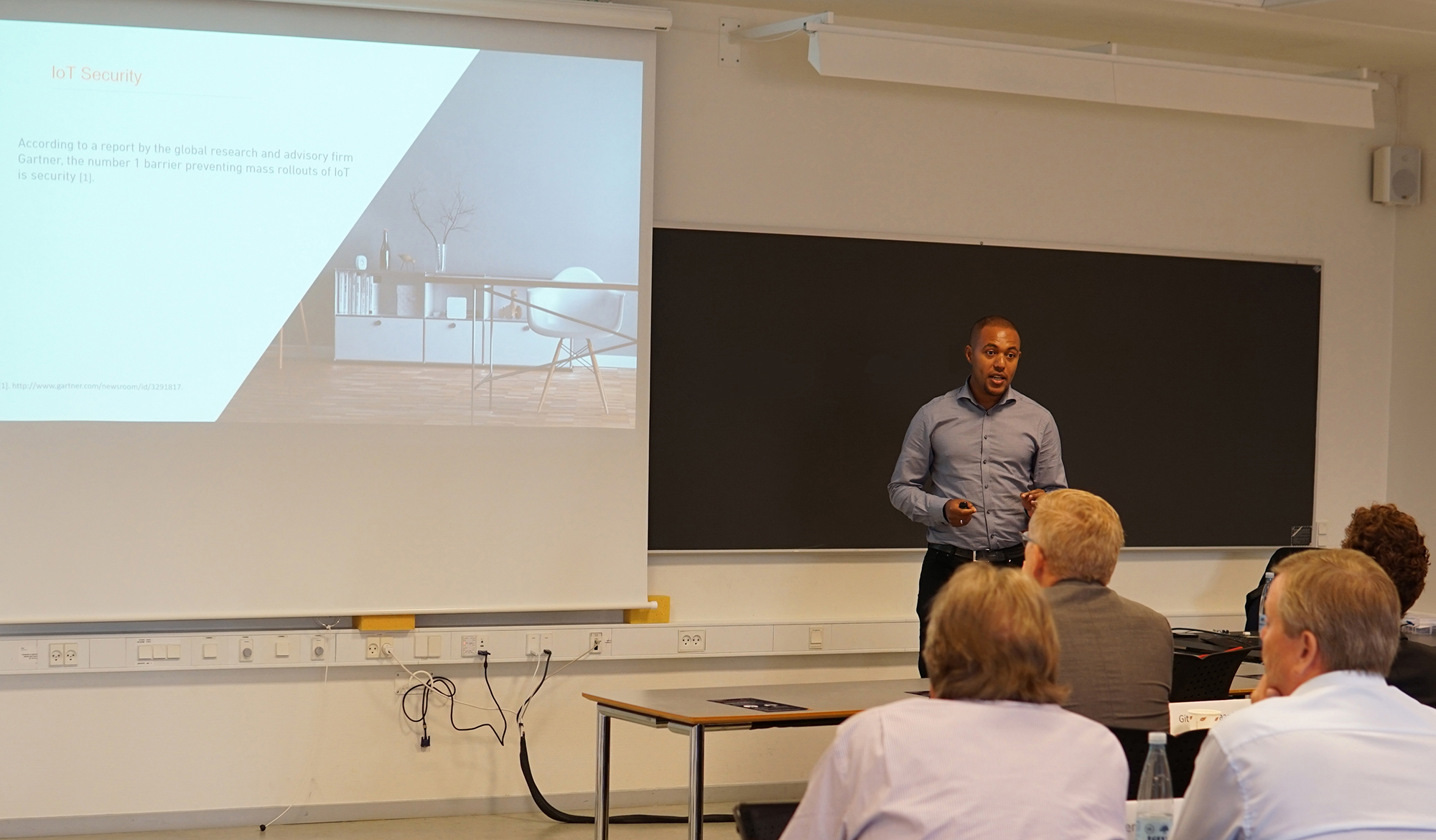 Mohammed's recommendations are focused on helping customers understand the multilayered end-to-end IoT security. Each recommendation respectively covered a specific layer of IoT systems, including bottom devices and sensors, communication (home area networks and wide area networks), IoT gateways, and server-side systems. The recommendations are:
Designing and developing devices and sensors within the use case context. More specifically, issues like Secure authentication and authorization, encryption and protection from denial of service or compromise need to be considered during the design process.
Protecting data flows between devices, gateways, and home and wide area networks from being intercepted, disrupted or modified. This can be done through normal communication security measures, such as reviewing network vulnerabilities that may lead to denial-of-service attacks.
Keeping gateways and their operating systems protected from unauthorized access and misuse by minimizing unnecessary external ports.
Network servers themselves need to have standard online server levels of security such as secure user sign-up, sign-in, and access control, as well as protection from denial-of-service attacks.
In the future, we will further elaborate on each of these four security considerations in more detail, with dedicated news posts for each recommendation.
Because of the increasing need for more secure IoT solutions, at Develco Products we are committed to providing the highest level of security possible to help solution providers build secure end-to-end platform.
Get more information about the security of our IoT products.
Expand your IoT knowledge
Subscribe to Develco Products' newsletter and increase your share of the IoT market